Shop Best Smart Outdoor Devices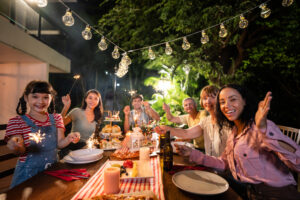 Independence Day is right around the corner. And many CT homes are getting together everything they need for a holiday bbq cookout! So let's take a break from finding cheap electricity rates and talk about some fun summertime tech. Here are our top five smart devices for your next cookout!
Best Cheap Cookout Smart Device
Outdoor lighting, speakers, and electric grills all need power to work. And the Wyze Plug Outdoor makes power solutions a snap. The plug is weather resistant, incredibly cheap, and has several useful features. For example, you can hide that you're away from your home by setting the plug to light up with its vacation mode settings. In addition, energy monitoring tools can help you meet your energy saving goals. Best of all, it works with Alexa, Google Voice, and other Wyze devices.
Top Cookout Smart Devices
If you like making your outdoor parties bright and fancy, then check out the Govee Lynx Dream String Lights. The device's 47 scene mode settings make it easy to customize the experience. For example, I can set simple white lights for summer cookouts, festive colors for Christmas, or rapid flashing candy colors for garden dance parties. The lights also work with Google Voice, IFTTT, and Alexa systems.
You might also love the JBL Charge 5 for your outdoor speaker needs. The compact, sturdy, and waterproof design makes it easy to take to the beach or my backyard. The companion app also makes it easy to control, though I wish it had equalizer control settings. But I can forgive that because it packs some incredible sound quality. It also has charging ports for smartphone charging and rubber feet to keep it stable on a table. Pretty good for less than $200.
Best Outdoor Grilling Devices
If you enjoy charcoal grilling, then you know how annoying starting the fire can be. But the Looftlighter can start the fire without lighter fuel. It uses superheated air to ignite charcoal, wood, or briquettes. It can heat up in seconds so you can get to cooking fast. I also use mine to light up my fireplace.
And the Traeger Timberline 1300 could take your grilling to the next level. This wood-fired grill uses high tech fans and has cooked some of the tastiest ribs and burgers I've ever had. It also has Wi-fi functionality for remote heat control. You can also access a ton of recipes to try if you want something different. But what I love most is how easy it is to use. This isn't very cheap and you'll need help to assemble it, but it is definitely a great upgrade if you can swing it.
Enjoy Next Holiday Cookout the Smart Way
This year has seen a lot of great smart device options for the perfect grilling day. So you are more than covered whether you're planning a cookout for your family or a large gathering. We hope these suggestions can spice up your next cookout or give you ideas on what to shop for.
And when the grilling is done, make sure you visit https://www.ctenergyratings.com to shop for the cheapest electricity rates in town. You can also drop by for the news to help you save money and energy.