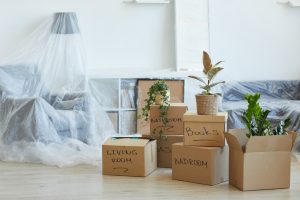 How to save money when moving house
It's that time of year when many households are considering moving. But moving can be expensive, even if you're doing it to follow a better job. But why go broke because of a move, when you can discover how to cut cost? Find out how you can save money before your next move.
Declutter Your House

Do you really need all of your stuff? In the weeks leading up to packing day, go through your home and figure out what you can toss.

Host a Garage Sale

From movies to video games to accessories, get rid of your old stuff and earn some extra cash.

Check out your new homes electricity rates

All homes use electricity differently. If you're moving in-state, check out your utility's standard offer service rates for your new neighborhood before hand. Then shop for the best electricity rates.  That way you can avid a high CT electricity bill from the utility. If you already have a provider, call them to see if can transfer service to your new home. 

Donate bulky items

Old couches, dressers, and other furnishings are a hassle to move. So try donating any bulky item that you can live without. Many thrift shops offer effortless donation services and some charities will even do free pickups. Be sure to get an itemized list of donations to deduct from your taxes.

Move during the Off-Season

The slowest period for moves is between October and April. During this season, moving companies have less work and are more willing to offer better prices.

Consider Moving Containers

If you missed out on off-season pricing, you may be able to save by using a moving container or storage unit. Store the things you don't need during the spring and summer and then move them when the off-season pricing returns.

Rent a Moving Truck

Moving companies make their money by offering convenience. But you can save a lot of money by renting a moving truck and driving on your own. This is a great idea for in-state moves that don't require days of travel.

Reuse Cheap or Free Packing Materials

Buying new packing materials will raise your expenses fast. You can wrap smaller glassware inside socks and sweaters. Towels can separate plates. And many neighbors might have old boxes ready to give away for packing.

Avoid overbuying for the new home

Moving day excitement can lead to buying a lot of stuff that you don't yet need. Consider a spending freeze and focus only on moving and settling in. You'll know what you need after the first month or so.

Consider asking for Moving Reimbursement

If you're moving for a job, your new employers may be willing to help you offset costs. Make sure you call them and ask.
Best Saving Money Moving Tips
Smart and cheap moving isn't very hard. It's all about figuring out the best way to cut costs and committing to a strategy that works best for you.
Learn more about retail suppliers, saving money and energy, and comparing rates and plans at https://www.ctenergyratings.com.