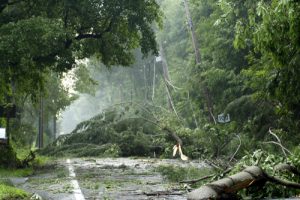 Safety During The Coronavirus Quarantine
Under normal conditions, electricity companies have trained work crews ready to restore power. But Covid-19 has left many companies short-staffed. Power blackouts could last much longer than normal. Is your "new normal" ready for both quarantine and outages from severe weather?
As of April 27, The National Weather Service predicts long periods of rain for the region forecast. As CT residents know, severe weather can cause power outages and put all of your perishable food at risk of spoilage. In fact, the American Red Cross says that food in your fridge remains cold if you keep the door closed for only four hours. So, that's why you should learn everything you can about food preservation, to keep your home and family safe.
Food Preservation Tips During Quarantine And Outages
Before an outage strikes your neighborhood, make sure you take some time to do the following.
Purchase foods that can be frozen.
Some of the foods you love can be perfectly stored in the freezer. Even foods you might not expect, like eggs and pizza, can be frozen and enjoyed during extended outages. Here's a handy list from foodsafety.gov that goes into further detail.
Make a list of what you have in your fridge and freezer and hang it in plain view.
Making a list of what's in your fridge makes it easy to figure out what you can eat during an emergency. It also limits how much cold you waste by searching for leftovers or condiments. If you don't want to waste paper, you can even pick up a small marker board for cheap at most big box stores.
Make sure your family eats perishable items in the fridge first, then your freezer.
Since cool only lasts a few hours in a closed fridge, your perishable food item will start to spoil before long. Before you open cookies and non-perishable items, eat the food in your fridge. If you get hungry later, skip the fridge and eat items in your freezer. Save your non-perishables for after you've eaten what's safe in your fridge and freezer.
Learn what's good to keep and what has to go.
Even with the tips above, all foods aren't made equal. Some food items can be safely stored and set aside even after the fridge goes down. Another Foodsafety.gov guide is a handy table of foods that can be kept after it's been kept above 40 °F for over 2 hours. Certain cheeses, breads, fruits, and nuts can keep your family fed, after you've eaten the leftover pizza.
Fridge Hacks During Quarantine Outages
Getting additional cooling space is an easy way to give you more time to eat your perishable foods. They can also extend how long you can avoid digging into your non-perishable emergency supplies. Best of all, you can practice these tips now, since they won't affect your home kWh use. A lot of these tips are even discussed in this FEMA and Red Cross food and water emergency guide.
Start by picking up a cooler. While camping coolers are ideal, throw away Styrofoam cooler are an affordable option. Purchase bags of ice early, before any predicted severe weather. During an extended outage, put the foods you want to keep on ice in your cooler to extend their shelf life.
Turn down your fridge and freezer thermostat.
If you suspect that an outage is coming, turning down the temperature in your fridge and freezer may extend the life of your food by an hour or two.
Turn your freezer into an Ice Box
If you have the room for it, fill up a pair couple of milk jugs, or soda bottles, or even plastic zip lock bags with water and freeze them. You can then put some in the fridge section to help keep item cool. It will limit space, but the extra chill may extend your frozen food's life by a few hours. Remember not to over fill them or the expanding ice will crack apart the plastic.
All About Coronavirus Outage Safety
With electricity work crews potentially facing labor shortages due to Covid-19, homes that undergo outages may have extended waits for restored power. But practicing good quarantine prep strategies can keep your food safe.
You can learn more about saving money and energy by comparing rates and plans at www.ctenergyratings.com.