Stay Energy Efficient This Summer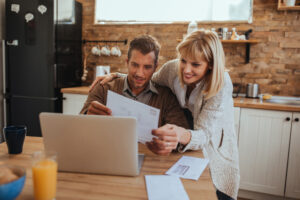 Summer is right around the corner. For some, that means it's time to stuff beverages into their mini-fridge. But are these compact devices really the best way to save energy and money? Let's talk about the most energy efficient refrigerator size.
The Mini-Fridge Low Cost Myth
If you've ever been fridge shopping, then you likely came across mini-fridges. These tiny boxes are popular in smaller offices, dorm rooms, and apartments since they don't use a lot of space. They are also cheaper to buy than standard-sized kitchen refrigerators and use around half as much power. So they seem like a great deal, right?
But here's the catch. They're not very energy efficient. Mini-fridges often rely on its external walls to handle heat. Meanwhile, standard size refrigerators rely on external condensers and fans to dissipate heat. What this means is that mini-fridges are more susceptible to their surroundings. If the room is hot, the mini-fridge runs longer to stay cool. Also, refrigerators always lose some amount of their cooled air when you open the doors. It practically falls out. But mini-fridges tend to lose most, if not all, of theirs. That alone makes them a whole lot less energy efficient than their larger cousins.
Finally, mini-fridges are simply not meant for anything more than a case of canned drinks or one person's food. This means they might not even be enough for a family's second fridge, let alone their first and only.
In short, mini-fridges might save you money up front. But you will likely end up wasting energy and money over time.
Best Energy Efficient Refrigerator Size
For most homes, purchasing a 16-20 cubic foot refrigerator will best meet their needs. This size offers the best compromise between plenty of space for food and having all the components needed to keep things cool inside. This means that they are far less affected by the temperature of your kitchen throughout the year. In fact, energy-efficient models use 9% less energy and can save you around $260 over 12 years.
If you'e chasing the best energy efficiency, consider getting a top-freezer model, rather than a bottom freezer. Top-freezer models use 10-25% less energy because their compressors are further from the refrigeration compartment. In other words, they waste less power on keeping your food cool and fresh.
Save With Best Refrigerator Tips
Even if you buy the perfect refrigerator for your home, you can still set it up to run more efficiently and save money. Such as:
Set the fridge temperature to 35-38 degrees Fahrenheit
Place your fridge in a cool place. Even standard models work best if they are away from your oven or direct sunlight
Leave a few inches between the wall and the fridge to increase air circulation. Be sure to clean your condenser coils once a year as well.
Check the fridge door seals. Because any leak can ruin your energy efficiency.
Keep the door closed as much as possible.
Choose Most Energy Efficient Refrigerator
With summer around the corner, it's important to save money where you can. And one of the best ways is to replace your old fridge with one that's right for your home. The right refrigerator will keep your food cool and fresh for far longer and save you money. Especially if you have the best electricity rates in CT.
As always you can shop for great plans and find ways to save money on lower electricity rates at https://www.ctenergyratings.com. Plus remember to come back here for the news that affects your CT electricity bills.