Save On Electricity Rates With Solar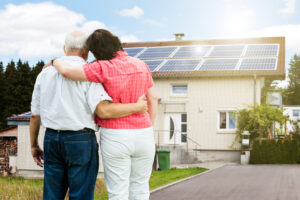 CT electric customers can't catch a break. It's one thing after another, with budgets feeling the pinch because of inflation and rising electricity rates. However, some customers see cheaper long-term rates by switching to solar power. Sure, there's lots of up-sides; cheap electric bills, maybe even selling your surplus back to the utility! But before you make the switch, consider the costs of residential solar in CT.
Why Shop Solar Energy Electricity
Last month's FERC forum highlights the problem with New England's energy supply. Supply constraints and the volatile natural gas market can cause rates to spike. Add in the effects of the War in Ukraine and CT is seeing rising electricity prices all over the place. In fact, Eversource warns that their electricity bills could rise by up to 40% in January.
This isn't an immediate concern if you locked in cheap multi-year rates. But most homes are scrambling to find the cheapest electricity plans. You might find long-term savings if you switch your home to solar.
Benefits of CT Residential Solar
It's difficult to gauge exactly how much you save if you switch to solar electricity. The benefits of residential solar depend on these factors.
Electricity consumption
Solar energy system size
Whether you purchase or lease your system
Direct hours of daily sunlight
Size and angle of roof for mounting
Local electricity rates
A solar installation expert will go into details for your home. In general, you save more if local electricity rates are high and your home receives more direct sunlight than average. While the amount of annual insolation average in CT isn't as high as Arizona, you can still power your home.
What is proven is that solar installation adds value to your home. Some studies show that home value rises by as much as $15,000 with solar installations and tend to sell faster.
Consider CT Solar Electricity Grid
As you shop for solar you'll likely hear about "Grid-tie" and "Off-grid" systems.
Grid-tied systems are connected to the local utility power grid. These systems can send your surplus electricity back to the CT grid. This practice is known as "net metering". In addition, you have access to backup grid power in case your solar panels fail.
Off-grid systems are completely self-sufficient. Which may be ideal for rural homes. But these systems cost more upfront because of the cost for batteries. They can also require more maintenance to keep the system reliable.
In either case, the biggest cost comes with installation.
Unless your home is already built for solar, you will be paying for labor and equipment. This Old House estimates the starting cost for solar panels to be over $15,000 in CT. Thankfully, federal tax credits are in place that can cut costs by 30% with no maximum savings.
For some customers, these costs may seem too much to bear. But consider that some new solar arrays can offset nearly 100% of a customer's annual power needs. So the potential for massive long-term savings is there.
Is Residential Solar Right For You
CT's natural gas and electric utilities warn that energy rate spikes may be around the corner. For some customers, long-term bill savings may be worth the upfront cost of switching to solar. For others, the good news is that solar prices are still falling. So stay tuned! You can also keep up with other news that affects your bills at https://www.ctenergyratings.com. And be sure to shop for great plans and find ways to save money on lower electricity rates.