Eversource Energy

Eversource Energy is a Fortune 500 Energy company that does it all for customers across many states, including Connecticut. Not only do they own thousands of miles of electricity transmission lines and poles, as well as thousands of miles of natural gas pipes, Eversource Energy also operates retail electricity and natural gas companies that service more than 4 million customers across three states! Talk about a company servicing Americans! In Connecticut, Eversource also happens to be one of the incumbent utility provders, along with United Illuminated. That means they're the default provider for cusotmers, but customers can choose different electricity suppliers based on better rates, better customer service, and more. On top of that, Eversource works with a number of different charities and community programs and is an active sponsor of the Connecticut Special Olympics. For more information, click on the link to discover what makes Eversource Energy a community leader.
By choosing Eversource Energy as your electricity provider, you can count on:
A Familiar Name in Electricity
Customer Service
Support for Our Community
Compare Eversource Energy Electricity Rates
Compare Eversource Energy Rates
Eversource Energy Electricity Prices & Rate Plans
Lets be honest, these days everyone is used to being able to shop quickly and efficiently for everything. Usually online. And electricity in Connecticut is no different. People want options, options, and more options. But in Connecticut, most of the variety comes from the terms of contract, or as it is known in Connecticut: Billing Cycles. The minimum billing cycle in Connecticut for electricity is 4 Billing Cycles. Right now the maximum plan is 48 Billing cycles, or 4 years.
Fixed electricity Rates It means just what it says, customers who order a Eversource CT fixed electricity plan will pay the same rate for electricity for the duration of their contract. What it means is that customers don't have to worry about any surprises on their bills at the end of every month. Low rates and peace of mind is a pretty compelling sales pitch. Early cancellation fees may apply if you terminate your electricity plan before the contract expires. Beyond that, things that could also affect your bill include potential cancellation fees, enrollment fees, or monthly fees. Standard Eversource CT plans seem to be 6 billing cycles, do not have any cancellation fees, enrollment fees, or monthly fees.
How to Start New Eversource Energy Electricity Service
Moving to the Eversource CT service area? Well shopping for an electricity plan inside Eversource's footprint is easy. You can do it right here at CT Energy Ratings. Simply type in your zip code in the comparison box a couple paragraphs above, hit enter, and see what different electricity suppliers are offering service in your area and the current rates they are listing. It's just that easy!
Personal Information: You will need your name, phone number, email address, and your Social Security Number. These will be required.
Service Address: The address where you want electricity service turned on or switched.
Utility Account Number: An 11 Digit number (usually starting with 51) that appears on your electricity bills.
Service Reference Number: A 9 digit number at the top of your electricity bill
Name Key: 3 or 4 letters, usually a form of abbreviation of your last name. Also listed at the top of your electricity bill.
In other words, you really need your service address, your personal information, and a current electricity bill.
36 Month Fixed Rate
9.6%
under utility rate

Compared to the current Eversource (formerly CL&P) rate of

13.8200¢ / kwh
12.49¢ per kwh
$0.00 MRC
The 'MRC' or 'Monthly Recurring Charge' is a fee that the provider will add to each of your bills in addition to the electric usage charges.

Understanding Your Eversource Energy Bill
An electricity bill has a LOT of different line items that can be confusing to customers. Here is where we break down the most important items. Below is a sample Eversource Energy electricity bill.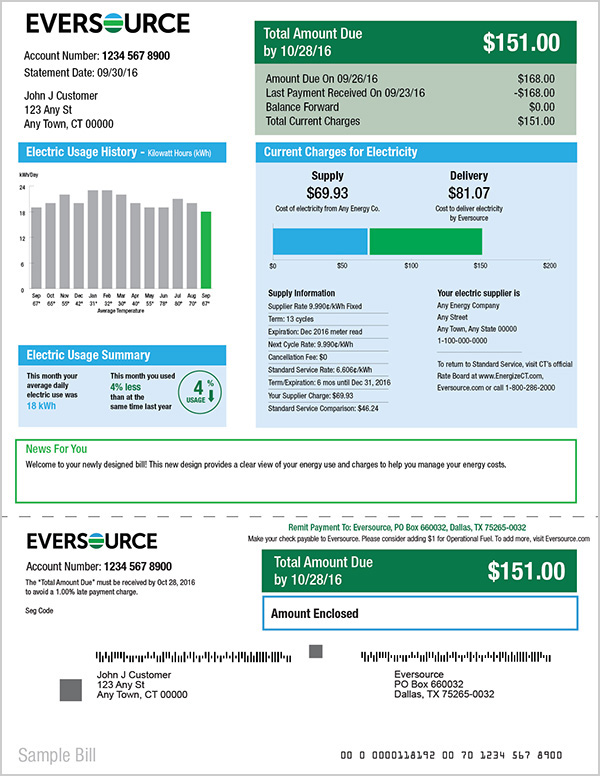 Total Amount Due: Total Amount owed Eversource.
Current Charges for Electricity: A more in depth breakdown of your current charges, broken down on Supply and Delivery charges.
Electric Usage Summary: Average daily energy usage and a comparison to a previous month.
Electic Usage History: Your energy usage for all previous months so you can draw comparisons.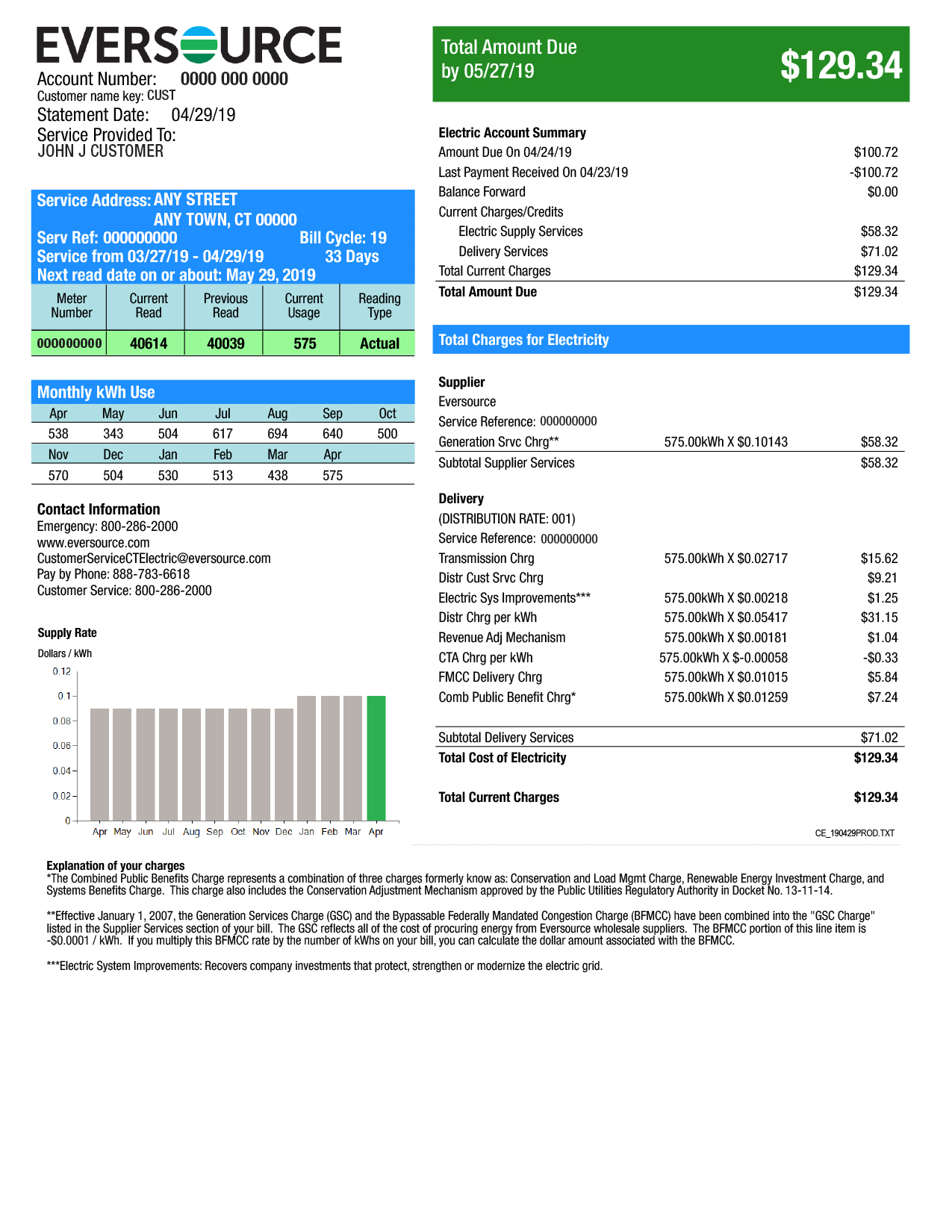 5. Electric Account Summary: A comprehensive look at your previous and current charges and credits and balances with Eversource.
6. Total Charges for Electricity: An extremely detailed breakdown by category of all your current charges with Eversource.

Are Eversource Delivery Charges Expensive? Understanding Eversource Charges.
In Connecticut, electric service is divided into two main areas, generation supply and delivery.
The Eversource standard service generation supply rate is approved by the Connecticut Public Utilities Regulatory Authority (PURA). You can also choose an alternative supplier for your electricity supply.
However, because Eversource owns, operates, and maintains the poles, wires, and other infrastructure that reliably deliver electricity to homes and businesses. Consequently, all of Eversource's Connecticut electricity customers pay a PURA-approved delivery charge to cover their operating costs.
Eversource Generation Services Charges
As you can see from the details in the sample bill, Eversource offers a default generation supply at a PURA-approved standardized rate to its residential customers who do not select an alternative supplier.
The standard service generation supply rate is determined by a competitive wholesale auction. The auctions determine which generators can supply Eversource customers at the lowest price. This rate must be approved by the PURA. The price that Eversource pays its pool of generators for electricity is passed directly on to customers without any mark-up. Because auctions happen twice a year, this rate changes every six months on January 1 and July 1. These rates are typically higher from January to June and lower between July and December.
The current Eversource generation supply rate: 13.820
This generation supply rate expires:1/31/2024
Eversource Delivery Charges
Connecticut electricity customers also pay delivery charges which cover the expenses incurred to maintain the electricity infrastructure.
Delivery charges consist primarily of:
Customer service charge
Charge per kWh.
However, the additional charges in riders can add substantially to the total amount.
Eversource delivery charges for residential (Rate 1) customers can be as costly as the supply charges. All customers pay Eversource delivery charges regardless of where their electricity supply comes from.
Eversource's current residential delivery rate: .
The US Energy Information Administration estimates an average Connecticut household used 724 kWh per month in 2018.
A residential Eversource CT customer would pay $100.06 for their generation supply rate and $53.10 in delivery charges.
Combining these two costs results in an average residential bill of:
$153.16
Regardless of whether you choose the Eversource generation supply rate or pick an alternative retail supplier, your monthly bill comes from Eversource. Your bill will list the cost of the electricity you consume and Eversource's delivery charges.
Eversource Energy Reviews
Eversource Energy is an incumbent utility provider that offers electricity service in Connecticut. Eversource Energy has an A+ rating with the BBB, and are the biggest provider of electricity service in Connecticut

| | | |
| --- | --- | --- |
| Provider | 2020 CTEnergy Ratings Score | 2020 Better Business Bureau |
| Eversource Energy | 3.100 | Not Ranked |
Eversource Energy Coupons, Energy Promotions, Discounts, Rebates and Promo Codes
Eversource Energy has a few options and discounts available to save some money because they are the incumbent utility. If you are on the below list, you might qualify for a discount electricity rate. If eligible, you can download the Discount Rate Application and mail it to the listed address.
| | | |
| --- | --- | --- |
| Potential Benefit | Eligible Programs | Type of Customer |
| Rate Discount | LIHEAP/Fuel Assistance | Residential |
| Rate Discount | SNAP/Food Stamps | Residential |
| Rate Discount | Veterans Dependency & Indemnity Compensation (DIC) | Residential |
| Rate Discount | School Breakfast/Lunch Program | Residential |
| Rate Discount | Veterans Non-Service Disability Pension | Residential |
| Rate Discount | Commonwealth Care Plan Types 1, 2 or 2A | Residential |
| Rate Discount | Health Safety Net Plan | Residential |
| Rate Discount | Women, Infants & Children (WIC) Nutritional Program | Residential |
| Rate Discount | Veteran's Service Benefits (Chapter 115) | Residential |
| Rate Discount | Head Start | Residential |
| Rate Discount | Transitional Aid to Families with Dependent Children (TAFDC) | Residential |
| Rate Discount | Public or Subsidized Housing | Residential |
| Rate Discount | Emergency Assistance for the Elderly, Disabled & Children (EAEDC) | Residential |
| Rate Discount | MassHealth Basic or Standard | Residential |
| Rate Discount | Supplemental Security Income (SSI) | Residential |
Electricity Service Problem? Heres who you contact:
Having some kind of problem with your Eversource Energy electricity? Here's the proper people to call:
Unpaid Bill? - You want to contact Eversource Energy. Call Customer Service at 800-286-2000
Is there an Outage in your area? - You want to contact Eversource customer service at 800-286-2000.
Compare Connecticut Electricity Rates
Connecticut Electricity Providers
Zip Codes with the Cheapest Electricity Rates in Connecticut