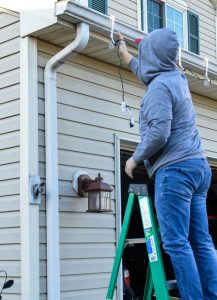 Can I save money on my energy bill this holiday season?
Who doesn't enjoy festive lighting as the Christmas season rolls around? The joy on faces of young and old is undeniable, but seeing the bill come in after can still cause quite a shock. The U.S. uses more electricity on their Christmas lights than many developing countries use over the course of an entire year. Yes, Christmas lights can be expensive, but they don't have to break the bank. How much are you paying on your UI New Haven electric bill for your Christmas display, and just how much could you be saving?
How much are your Christmas lights costing your electric bill?
Until December 31, 2018, United Illuminating's standard offer costs 9.05 cents per kWh for generation and 9.64 cents per kWh for distribution, making a combined total of 18.69 cents per kWh. Let's imagine you are running a typical lights display consisting of a wreath, garland, two outdoor decorations and 10 strings of incandescent lights. This amounts to 635 watts, which at the average rate of 18.69 cents per kWh would cost you $17.80 on your electric bill. If you are a heavy or enthusiastic decorator, this price rises even more dramatically. A heavy user would see themselves paying $190.60, and an enthusiastic household would find themselves facing $514 on their electric bill from Christmas lights alone!
United Illuminating's standard offer rate is set to increase almost 24 percent from January 2019, going from 9.05 cents on the generation charge to 11.23 cents per kWh, so prepare to see those energy bills increase even more!
But it doesn't have to be that way.
How much could you be saving on your energy bill?
Constellation offers a 36 Month Home Power Plan for United Illuminating New Haven customers with a fixed rate of just 9.99 cents per kWh. Compared to the average rate, this means you would only be paying $9.50 for a typical holiday lights display, a saving of close to half. Direct Energy also offers a Live Brighter 12 month fixed rate plan at 10.49 cents per kWh. For a typical user, this would bring their holiday lights down to $9.99, again savings of over nearly half on the average UI New Haven electricity bill.
Slash your Christmas energy bill and start saving right now!
The holiday season doesn't have to drain you of your money. Beat the price increase and start saving now by shopping for a new electric provider. Both Constellation and Direct Energy offer the cheapest fixed rate plans around, ensuring you won't be spending more than you need to when the UI price increase comes. And don't forget you can head over to https://www.ctenergyratings.com/electricity-rates to compare our choice with other electric plans.