New Technology, Better Living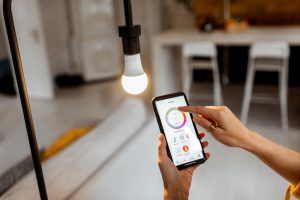 Earlier this month saw this year's Consumer Electronics Show (CES). This annual convention is the best time to see the cool devices that could be just around the corner for shoppers to enjoy. But this year saw devices that will be of interest to anyone looking to reduce energy usage or find better electricity rates. For me, the variety made choosing my favorite more difficult. To see why, let's check out CES 2022 Best Energy Gadgets.
Best Home Gadgets
This year saw a lot of tech that designed for today's most common problems…including "porch pirates".
For example, Eufy's Video Doorbell Dual is a camera surveillance system with a twist. It has the front facing camera you expect from front door systems, as well as a down-facing camera to keep watch for packages. The attached app will let you know when packages are delivered complete with timestamps. It even provides alerts if anyone approaches your package so you can call someone you trust for a speedy pickup.
And speaking of saving energy, this year's show saw some interesting solar power solutions. GAF Energy's Timberline Solar System, for example, uses shingles rather than panels to make installation easier. The shingles provide the benefits of solar, while maintaining curbside appeal. Best of all, the shingles are built to withstand stronger winds and weather. They're even tough enough to take a bite out of your high CT electricity bills.
Coolest Home Gadgets
The showroom floor also saw two devices that I thought were particularly cool. First, was Samsung's Eco Remote, which is their answer to the question of Sustainable TV viewing. Besides the usual remote functions you expect, it also features a solar panel for easy recharging. In addition, the model also has radio frequency harvesting capabilities that can speed up charging if placed near remote devices like wi-fi routers. And if these remotes come standard, it means big savings on batteries and battery waste.
I was also impressed by the Roborock S7 MaxV Ultra. This automated mopping has a number of features to improve the concept. For example, it uses smart AI to avoid obstacles and lift the mopping cloth above rubs and carpets while it vacuums. In addition, it automates cleaning to limit the work you have to do. It's definitely a way to spend less time cleaning and more time shopping for the best energy companies.
My Favorite CES 2022 Gadget
It was hard to choose one gadget for my personal pick. While I'm drawn to the Damon Electronic Vehicle (EV) Motorcycle, I know that's more 'cool' than useful. So instead I look at the Uvera Smart Food Storage unit. The device uses vacuum sealing tech to extend the life off foods as well as UV Light. According to Uvera, UV light kills bacteria making food safer to eat for longer.
Best CES 2022 Technology
There was a lot more to love about this year's CES. Especially for anyone with sustainability or security on their mind. But the devices above were the ones that stood out to me. It's definitely clear that this is the year for exciting new tech.
You can also learn more about saving money and energy by comparing rates and plans at https://www.ctenergyratings.com.