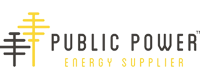 Public Power Resources

Public Power, a subsidiary of Crius Energy, is a deregulated electricity provider that offers service in Connecticut and Pennsylvania.
---
Most Recent Public Power Reviews
electricity
I chose Public Power since it has a stable price for one year. The switchover from eversource was seemless and painless. So far so good with Public Power.

— Daniel Dana from Westbrook CT
Satisfied
I was very satisficed with service.

— Ed from Oakdale CT
Public power for the win
Very easy to set up, pay bill online and nothing needed to be changed on my end. I just paid less money for electricity!! It was a win to make the change

— Jenn from Newington CT
4-5 Star Reviews: 18 (44%)
electricity
I chose Public Power since it has a stable price for one year. The switchover from eversource was seemless and painless. So far so good with Public Power.
3-4 Star Reviews: 6 (15%)
Pricing not clearly displayed
Two weeks or so after enrolling in your program, I received an e-mail telling me I owed 139 on my account. At first I thought this to be a scam until I called customer service and was told the $139 was a sign-up fee which, the representative told me, was listed on the company website. Had I seen this listing, I wouldn't have chosen your company since the fee added to the per kw/h would have exceeded most, if not all of the other power providers cost in my area. The representative was kind enough to rescind the contract, and I apologize for not seeing the added fee in the sign-up. Thanks for your help
1-2 Star Reviews: 19 (46%)
UNHELPFUL
I was overcharged, did not receive my refund check. Its been over 6 weeks. I called multiple times spoke with multiple people. Not a single thing was solved with loose answers that beat around the question ! Supervisor was in a very long call and could not speak. SURPRISE! Absolutely pathetic.
Public Power News
Save More With 12 Month Electricity In New Haven
Can't afford UI's rates if your AC is running non-stop? Shop and save with these cheap,  fixed-rate electricity plans! Beat UI Price to Compare Rates Customers in New Haven have dealt with some of the hottest days this summer. You can expect high CT electricity bills because hotter days means m...
Shop and Save on Fixed Rate Electric in Bridgeport
High summer temperatures and high summer energy bills are heading to Bridgeport! Shop these great fixed rate electric plans to help you beat the heat! Discover cheap electric companies in CT With many customers struggling with their high electric bills, higher summer rates and high usage could ma...
Our Fave Electric Plans in Hartford, CT
Stop paying sky-high Eversource rates! Save money on electric plans in Hartford, CT, when you shop our favorite plans! Shop Best Electricity Suppliers Rates Hartford's Eversource customers should be paying less for their electricity. Ever since January 1st of this year, these customers have paid...
Public Power FAQs
What is the cheapest plan that Public Power has?
---
The cheapest plan Public Power has is 12 Month Fixed, with rates starting at 8.69¢. This is a 12 month plan. You can find details for that plan here.
Where can I order Public Power natural gas?
---
Public Power has natural gas plans in New York
What do customers think about Public Power?
---
That depends on who you ask. There will always be someone who feels wronged by a company, no matter how good they actually are. The average Public Power customer review is 3.5 / 5 stars. Keep in mind, consumers will go out of their way to complain far more often than they will to give praise.
All Public Power Plans
VS. Eversource (formerly CL&P)
5 month
Fixed Rate
4.8
% under market rate
Compared to the current Eversource (formerly CL&P) rate of
8.3910¢ / kwh