Easy Super Bowl Snacks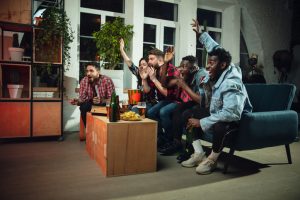 It's that time of year again! It's the biggest football game of the year! Which also means figuring out what snacks to bring if you've got game day party plans. So let's take a break from talking about electricity rates and talk about these easy to make favorite Super Bowl Party Snacks.
Tasty Finger Food Ideas
You can't have a Game Day snack table without a good selection of finger foods.
Vegetable platters are one of my favorite and cheap additions to any party. Just load up a serving platter with your choice of crunchy veggies like carrots, celery, broccoli, or even dried string beans. Some platters even have a cup in the middle for your choice of dip (I prefer ranch dressing myself). If you don't have a sampler platter at home, you can usually find them at your local dollar store.
If you prefer something more meaty, like Ham and Cheese, you'll get a kick out of this Egg Roll recipe.
Pre-heat your oven to 400 degrees. Mix ham, cheese, and scallions together in a bowl. Add a few tablespoons of the mix into egg roll wrappers. Then fold the egg rolls nice and tight (the recipe gives an explanation for first-timers). Then bake it for about 16 minutes, flipping once. Make three or four batches so you'll have plenty for your family and friends.
Best Chip Dips
We all know that chips and dips are a Super Bowl tradition. That's why I like to spice it up with some homemade dips.
For example, this Caramelized Bacon-Onion Dip was a hit at my Super Bowl LIII party. You start by cooking the bacon over medium on a skillet for about 8 minutes. Then, while it drains on paper towels, you add oil to the bacon drippings and turn up the heat on the skillet. Cook the onions with a little salt to bring out its sweetness or about 3 minutes.
Then turn the heat down and cook while stirring for about a half hour. It should be browned and soft by then. Put the onions into a large bowl, stirring in some vinegar. Let it stand for about a half hour then add in sour cream, salt, pepper, a cup of bacon, and chives. Then stir it and top it with the remaining bacon and chives. Serve this dip chilled or at room temperature.
Delicious Sandwiches
I'm something of a sandwich nut. So here's a couple recipes I like.
First is this Sausage and Fennel Parm Hero. Preheat your broiler, then place your rolls, cut side up, on a baking sheet. Then heat olive oil in a skillet and add sausage and fennel seasoned with salt and pepper. Once the fennel is golden and the sausage is cooked through (about 15 minutes), pile the mix on the bottom of the rolls. Then top the mix with your favorite cheese and broil for about 3 minutes.
Or you can use these tips for better grilled cheese sandwiches. The secret is in having a variety of breads that can hold up to your favorite cheeses. I personally go with sourdough every time, but wheat and white works just fine.
The Best Super Bowl Snacks
The Big Game is only a few days away, but it's not too late to get a snack game plan together. All it takes is figuring out what snacks you love and finding fun and easy ways to get them ready to serve. And after the big game, you can check us out for tips and energy savings at https://www.ctenergyratings.com.