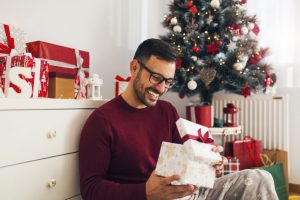 Holiday Energy Efficient Gift Ideas
We're coming closer to the last shopping days of the holiday season. If you haven't picked up anything for the energy shopper you know, then you might be scrambling for ideas. But rather than stressing out, here's a few energy efficiency gift items that are easy recommendations for the energy-saving pro in your life.
Energy Conservation Made Easy
With the hard year we've all experienced, smart energy shoppers are looking for ways to manage their high electricity bills. Fortunately, there are tools available now that make energy conservation a snap.
An electrician I know introduced me to the Black & Decker Thermal Leak Detector. You can use this around your home to look for drafts and leaks in your ductwork. DIY experts will then be able to patch the leaks. If you aren't great at DIY projects, then you can point directly to leaks when you call repairmen.
When it comes to the definitive best energy efficiency gift, the Kill a Watt Electricity Usage Monitor is another product I swear by. You plug in any device or appliance and the easy to read display tells you how much energy it's using. The best part is, you can put in your per kilowatt-hour (kWh) rate so it can calculate approximate costs in weekly, monthly, and even annual costs.
Cool Energy-Efficient Gadgets
If you're not careful, even the lowest electricity rates in CT can cost you a lot of money. The small habits you take or avoid can set the stage for losing dollars and cents every week. That's why I've looked into gadgets to help me out.
Take, for example, this 8-outlet surge protector by Belkin. While it looks like any other surge protector, it features a remote control. That means I can shut it off so my appliances and gadgets aren't draining power when they aren't in use. The remote connects with it from anywhere within 60 ft, so you can mount it where it's most convenient. It even has two 'always-on' plugs for devices that you don't want to shut off, like network routers or cordless phone stations.
Speaking of convenience, one of my relatives loves outdoor gardens and dining. So I'm excited to see what they think of the GIGALUMI Solar Pathway Lights. These outdoor lighting solutions automatically turn on at night and shut off during the day to charge. The benefits of lighting without the fuss and costs of wiring.
Gifts for Energy Geeks
The best energy shoppers and energy geeks in your life probably spend a lot of time to read reviews before buying any product. But you can still surprise them with this energy geek gift that I've recently discovered.
If you know someone who works or plays on PCs and laptops, then they might appreciate the Macally Wireless Solar Keyboard. This Bluetooth device works right out of the box with PC or Mac OS and can be charged by natural or indoor lighting. It's also versatile enough to be able to connect to desktop and laptop pieces, making it a handy keyboard for cafe typing.
Choosing the right gifts
With any holiday shopping spree, you have to consider what is the best product for your friends and family. But energy-efficiency is always a gift possibility. Devices are available right now that include better energy management tools, affordable ways to decorate their home, and simple conveniences.
You can also learn more about retail suppliers, saving money and energy, and comparing rates and plans at https://www.ctenergyratings.com.