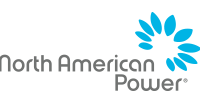 North American Power Resources

North American Power is an electricity and natural gas supplier that offers a range of competitive, environmentally-friendly fixed and variable rate products, and serves over 250,000 customers in 11 states.
---
Most Recent North American Power Reviews
No complaints
North American gave me a good rate when I signed up. The rate they are offering me now is not great and I will probably be switching. I have not had any problems with North American Power and have never had to contact customer service. If they provided a more competitive rate at this time, I would stay with them.

— E. Deegan from Brookhaven PA
Great Experience
It was a great experience. I am sorry my rate is coming to an end

— P. Esack from Vernon Rockville CT
One year of great service!
I signed up with North American Power a year ago and I have had no issues with them. The power has remained consistent with no issues at all.I hope I don't jinx myself because it is -10 degrees here tonight and has been this cold for a week.

— Donna from Seymour CT
4-5 Star Reviews: 5 (36%)
Great Experience
It was a great experience. I am sorry my rate is coming to an end
Sign up and forget
I am not constantly nagged about upcoming promos or having to recruit friends
North American Power
They suck! Never got a 50$ gift card as promised by the company, and cancelled us for a reason they called ( We werent in the line up.) as I was told today when I called!
1-2 Star Reviews: 8 (57%)
Shocking rip-off
My energy plan expired and I didn't receive any notification, until I just received my bill and the rate went up to 0.179 which is almost double that of JCP&L. Despicable! I should have switched back to JCP&L 6 months ago when I was considering it. What terrible business practices!
North American Power News
Get the Cheapest 24 Month Fixed Rate Electricity In UI Bridgeport
Beat United Illuminating's rising rates! Shop for the lowest-priced Bridgeport, CT energy plans that fits your family's lifestyle. Who has the cheapest 24-month electricity rates in UI Bridgeport, CT? Natural gas now fuels most electric power plants. Because so much natural gas was burned this...
Shop The Best 12 Month Electricity Plans in Stamford, CT
Lock in a great plan at a cheap rate for your Stamford, CT electricity needs for a whole year! Who has Stamford's cheapest 12-month electricity? Despite low natural gas inventory and a hotter than usual summer, the U.S Energy Information Administration is predicting that record-high natural ga...
North American Power FAQs
Where can I order North American Power electricity?
---
North American Power does not have any electricity plans
Where can I order North American Power natural gas?
---
North American Power does not have any natural gas plans
What do customers think about North American Power?
---
That depends on who you ask. There will always be someone who feels wronged by a company, no matter how good they actually are. The average North American Power customer review is 0 / 5 stars. Keep in mind, consumers will go out of their way to complain far more often than they will to give praise.
All North American Power Plans