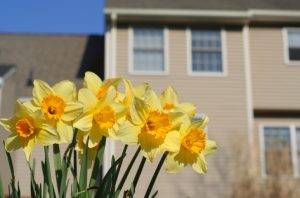 If you were hoping to avoid paying electric companies in Connecticut for another heating bill this winter, I've got bad news…and some good news.
All that really cold and snowy weather we just had? Well, expect below normal temperatures to hang around for about two more weeks. Yes, just in time for the first day of Spring! That's because a couple of troughs are expected to form over the Arctic and extend all the way down to the northeast and also setting up cold weather flowing across the Great Lakes, and the Ohio and upper Mississippi River valleys.
But afterwards, it looks like it might become a different story. Here's what's happening:
Remember the La Niña? Well, it's gone. El Niños, La Niñas, and Neutral ENSOs exert most of their influence in winter. Since the La Niña has faded to Neutral, that means that as the season transitions out of winter, there's not enough temperature difference in the ENSO region to exert much influence over global wind patterns. This is allowing other weather-effecting cycles to exert more influence. As a result, weather models indicate that the cold temperatures will likely retreat as the month ends and that milder air will make it's way eastwards. While a burst of cold weather isn't impossible, temperatures should rebound as above normal temperatures move into the northeast during the second week of April.
Out in the Pacific, meanwhile, it's thought that sea surface temperatures could warm enough to begin building a weak El Niño by the end of spring.It's thought that it might intensify during the summer to effect this summer's Atlantic hurricane season and next winter's temperatures. But that's getting ahead of ourselves.
Precipitation, meanwhile, is forecast for equal chances of below, normal, and above average precipitation.
How Warm Will It Get?
NOAA is forecasting that "probabilities of above-normal temperatures exceed 50%" over much of the northeast. However, if we indulge AccuWeather's prognosticatory hubris, they are predicting April and May temperatures in Hartford to be 3 to 5 degrees above normal. While that might not sound like a lot, that actually juggles the final freeze dates across New England by a factor of weeks. For example, Accuweather forecasts this year's final freeze in Hartford roughly April 1— though the historical averages put that date between May 11 and 21.
Electric companies in Connecticut calculate their heating energy demand by figuring the heating degree days ( HDD). This is the number of degrees that a day's average temperature is below 65°F, the temperature below which buildings need to be heated.
If we look at the the average daytime highs for Hartford in April, we find the average seasonal high is in the 50s/low 60s and the average number of HDD is 466. When we look at the Accuweather forecasts for this coming April, their forecast highs are for the mid to upper 60s. Obviously, that's going to reduce some of the HDDs. In May, however, average HDD is only 202. That's because the historically average high temperature is in the upper 60s. Forecasts are up to the mid 70s. That's really going to slash the number of HDD.
So, yes, it's likely to be quite a bit warmer than normal. Enough that your heating bills and — perhaps — all your spring flowers will all be over and done before mid-May. While you may not save as much money as last year, you'll probably save some money.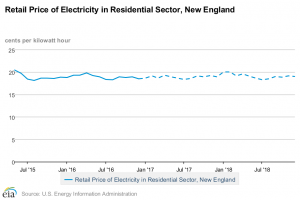 With unseasonable warmth moving in this spring, and with the residential electricity retail prices hinting at leveling, it's going to be the perfect time to do a Hartford electricity providers comparison at Connecticut Energy Ratings, the best place to rate, review, and shop for new electricity plans in Connecticut.