Electricity rates are always on the rise these days. Customers in Hartford, CT can be especially vulnerable to higher energy rates as the NOAA Three Month Outlook states that above normal temps = higher usage. The same concept can be said for the extreme cold temps CT is known for. This trend is not slowing down in the coming year either.
Furthermore, this EIA residential price chart shows US residential electricity price chart show higher rates projected in 2018, so here are the best 12 month electric plans for families in the Eversource footprint.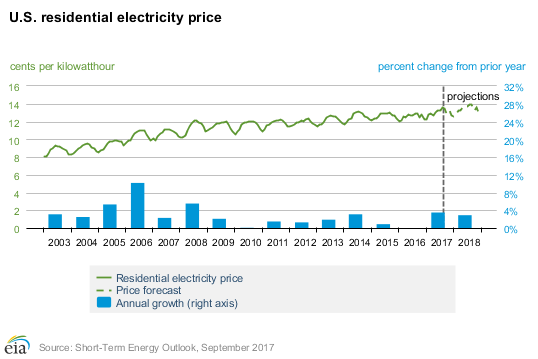 Compare Eversource Rates
There are a number of different electric supply companies in Connecticut and all have their strengths as well as their weaknesses. Today we are looking at competetive suppliers for Eversource Electricity rates and comparing which is the better deal.
| Provider | Plan Name | Term Length | Price Per kWh | Annual Average Bill |
| --- | --- | --- | --- | --- |
| | 12 Month Fixed | 12 months | 9.31¢ | $782.04 |
| | Live Brighter 12 | 12 months | 9.59¢ | $805.56 |
Compare and Shop
The above chart shows that CT electricity rates are different not only for the varying companies, but within the same company depending on which plan you choose.
At first glance of the chart it would appear that the clear winner for best rates would go to the 12-month Piublic Power plan, simply looking at the average Eversource kWh rate, but that is only scratching the surface of what is most important about the plans when looking for the cheapest Hartford Electricity rate. Other factors do make a difference as well.

What Factors?
A savvy shopper cannot merely go by the average Eversource kWh per month, there are plenty of other factors to consider in order to make the best decision as to which plan to choose from. You have to look at the minimum usage fees as well as cancelation fees and any charges for bundling services. Both Direct Energy and Public Power makes this one an easy choice for its customers as there are none of these additional charges for either plan, so the best rate by price is the Public Power rate.

Conclusion
When you compare CT Electricity Rates with various companies it can become confusing, but with these two plans the clear winner is the 12 Month Fixed plan from Public Power. This plan is not only the cheapest of the two, but it also enables the customer to not feel locked into such a long contract even though there are zero cancelation fees with both plans.